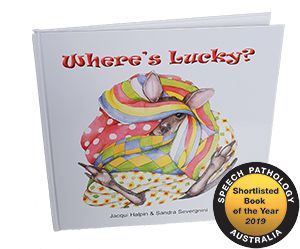 Where's Lucky?
This delightful story based on Lucky, a rascally little swamp wallaby at Our Haven Wildlife Shelter, is available now for pre-order from publishers Little Pink Dog Books.
Lucky, the orphaned swamp wallaby, has a knack for getting into mischief. While Theresa and Tony care for him, and their mob of other joeys, Lucky gets into lots of places he should not be.
Where will they find Lucky next?
An amusing tale about the delights and difficulties of caring for orphaned joeys.
Please click here for a story reading of Where's Lucky? on Ch 9Go, followed by craft activities.
A percentage of the income for this book will be donated to Our Haven Wildlife Shelter in Victoria, Australia who were the inspiration for this story.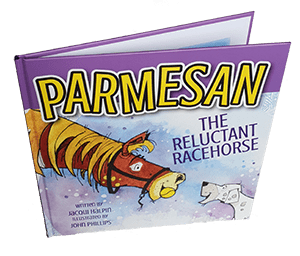 Parmesan, the Reluctant Racehorse
Available now at all good bookstores, online, or through Little Pink Dog Books.
Parmesan, the racehorse, thinks he's a dog. Instead of training with other horses, he's off with his doggy friends doing doggy things. Will he still be ready to run in the Spring Carnival?
A humorous light-hearted tale that celebrates the joy of being yourself and running your own race.
'the story is funny and sweet and memorable, and deals with themes of friendship and running your own race in life.'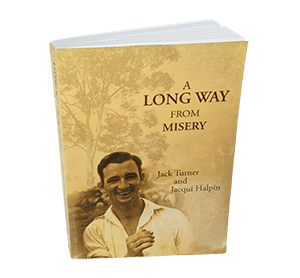 'I think A LONG WAY FROM MISERY is a great piece of entertainment and, on a more serious note, a great slice of Australian social history.'